Featured Questions
The flexibility for the payment of your orders.
Payment is a simple process
In order to make a payment, and therefore to complete an order, you must be registered as a customer on our site. We offer various payment methods to allow the conclusion of the order in the way that suits you best. Depending on the type of account and the payment method chosen, additional commission fees may be incurred.
What are the payment options?
Below are the specific types of payment currently supported by our platform:
Paypal
Bank or postal transfer in advance
Credit card
Postepay
Cash on delivery
---
Tipologia spedizione

Valore merce (IVA inclusa)

Costi di spedizione* (IVA inclusa)

Corriere economico

Da 89,00€

gratis

Da 0,00€

6,90€

Corriere espresso - SDA

Da 299,00€

gratis

Da 0,00€

8,90€

Corriere espresso – DHL

Da 0,00€

15,00€

Ritiro a mano

Da 49,00€

gratis

Da 0,00€

1,90€
* These shipping costs refer to standard shipping. Additional costs may be charged at the order confirmation stage in the case of special shipments, such as for bulky goods, or products to be kept in certain temperature conditions.
---
Receive a quote for large quantities or items not on our site.
Do you have a bill of materials (BOM) that you need a quote for? You can directly check the price on our site by searching for the item of your interest using the appropriate search bar. If you do not find the article on our website, please contact our Customer Service.
Do you need an item in a larger quantity than our lowest quoted price?
Or do you need a larger quantity than available in stock? You can contact our Customer Service directly who will quickly provide you with a quote, usually within one business day.
---
The advantages of My DHM on DHM-online
Unlock the benefits of your free account today - register now.
In a single portal you can:
Check your order history and reorder easily
Track the status of your order
Creation and organization of different wish lists
Address book management
Request invoices
Accumulate bonus points to use on your next purchases
Invite new friends to sign up and place orders to take advantage of attractive discounts
---
Stock availability and lead times
Our Compass DHM projects company has a warehouse based in Italy with thousands of products in stock available for same day shipping.
Information on stock availability can be viewed directly on the site in each Product tab and refers to actual availability.
A Product can be "In stock" (it is present in our warehouse), "Preorder Now" (the Product can be purchased with a slight waiting time), "Currently not available" (the Product is not available for purchase) .
Attention: the indicated availability is constantly checked. However, there may be cases in which, mainly due to IT problems, the quantities indicated may not be correct.
In case of partial or total unavailability of the goods you will be contacted directly by our Customer Service to determine how best to proceed, whether with a change to the order, a deferred delivery, or a correction.
Advanced information on availability and lead times
Listed below are the various messages that may appear to indicate the availability of products in stock and not in stock and the lead times for items currently not in stock.
All products indicated as "In stock" are normally in stock and therefore can be shipped the same day unless otherwise specified. It is possible to send an order for a quantity greater than that available in the warehouse; the excess quantity will be put "on hold" and delivered as soon as we have received the new stocks according to the times indicated in the product sheet.
Waiting times are always indicated in the product sheet with the words "Available in… days".
"... in stock": number of pieces available in stock for same-day shipping if ordered within the deadline.
"preorder now": These items have been ordered and should arrive shortly, approximately within the indicated time frame.
"Currently not available": This item is not available for purchase at that time. It may be in the production phase, or it may have been replaced by a new version or an alternative. Check the other products in the catalog.
---
Registering on our website www.dhm-online.com is quick and easy, giving you access to a whole host of features and benefits, including the ability to shop online quickly and easily, track your packages and view your parcel history. orders.
By registering online you will need to enter an E-mail address and a Password to then be able to access your dedicated area via login.
You will then be asked for the following information:
Contact information: name, surname, e-mail
We invite you to keep your references up-to-date to avoid unpleasant inconveniences during the order process or during the billing phase.
NOTE: when registering, it is essential to indicate your correct e-mail address.
You can customize your My DHM account: select the country of residence and the type of customer by specifying the requests indicated. The account that will be created will have specific features based on the choices made *.
* Once you have set up your account you will not be able to independently change the type or specifications, if necessary please contact Customer Service. In the event that the selection during registration does not correspond to the actual type of customer, we reserve the right to change your status and related benefits without notice.
Are you already registered?
Log in here and make the most of your account.
---
Pick up by hand is available by appointment.
Here's how to do it:
Place your order on the site
If you haven't already created an account to complete your purchase
In the "shipping" section, select the item "Pick up at VENUE"
Choose the payment method you prefer
Complete your order by paying conveniently online and securely
You will receive an e-mail containing the time and date for collection as soon as the material is ready
The retreat is active from Monday to Friday, from 17:00 to 18:00
ANTI-COVID RULES
In order to ensure a safe and efficient service, we comply with the health regulations imposed during this health crisis.
When you come to collect your order wear a mask!
---
With the budget law of 2018, the obligation of electronic invoicing was introduced "for the sale of goods and services carried out between residents, established or identified in the territory of the State".
As of 1 January 2019, it is therefore no longer possible to issue invoices in paper format. It is necessary to send it via the Exchange System (SDI).
Therefore, in order to issue the electronic invoice in the correct format, we therefore need some specific data, in addition to the standard ones.
For convenience, registration of an account as a Company is required.
In this way, all company data can be compiled:
business name,
address,
VAT number
tax code (where necessary)
The data necessary for electronic invoicing can be entered in the "Addresses" section of the account. The following fields are present:
> SDI code Also known as "recipient code", it is an alphanumeric code of 6 characters (for the Public Administration) or 7 characters for private individuals that identifies the "virtual address" (ie the software platform) in which the invoices sent to the recipient who adopts this code.
> PEC Those who do not have a recipient code can also receive electronic invoices in their certified e-mail inbox.
You will then receive the invoice relating to your order directly in your tax drawer of the Revenue Agency. We invite you to keep your details up to date, as well as the shipping and billing address. We are not responsible for any errors due to missing or incomplete data.
At the same time as sending the invoice in electronic format, a courtesy copy in PDF format is also sent to the email indicated during registration.
In case you need a copy you can contact our Customer Service.
---
Where is my package?
You can check the status of your order directly from your account in the "Order history and details" section. When the package is entrusted to the courier you will find the tracking code to be able to monitor the status of the shipment.
Please keep track of the code so that we can be present at delivery, or to monitor any anomalies.
Contact us immediately in case you find any anomalous updates of the code, so as to allow us to open an immediate report to the courier service.
Have you received a damaged package?
Receipt of damaged package? Sign with reservation!
Our goods are packed in our warehouse using some of the best shipping solutions or are already packed by our suppliers in accordance with the requirements of the courier.
However, despite the use of adequate tools and expert personnel, damage may occur during transport.
Verify all shipments upon delivery. If you find any missing or known external damage to the package, please notify our customer service department immediately.
What to do if the shipment arrives damaged.
In the event of obvious damage to the package (e.g. perforated cardboard wall repaired with courier tape, wet package, open package, etc.), a signature is required with reservation specifying the reason.
The reserve with specified justification must be indicated before the receipt is signed.
(for example "I sign with reserve for open package")
By not making a reservation, specifying the reason, it will not be possible, if necessary, to proceed with the opening of the damage file with the courier.
It could also be useful, in addition to signing with reasoned reservation, to take photos of the shipment itself.
If the courier refuses to let you specify a reservation, reject the package.
In the event that the package is accepted, however, an email must be sent immediately to Customer Service indicating the order number and attaching a photo of the package and any damaged products. The conditions for a refund through a voucher will then be assessed.
Have you received the wrong product?
We apologize first of all for this error. We will remedy as soon as possible. We thank you immediately for your cooperation and understanding.
In case of receipt of an incorrect product, please send us an email immediately indicating the details of your order and attaching at least one photo of the incorrect product you received in order to cross-check with our warehouse. We will then provide you with instructions on this. Depending on the case, a refund or return of the correct product will be made, with possible withdrawal of the incorrect material.
Have you received an incomplete order?
If you only receive a part of your order, it is possible that multiple shipments have been made, due to the nature of the goods purchased or the availability of stock.
If you have not been notified, or if you do not receive the missing part of the order within 5 working days, we apologize for the inconvenience and ask you to contact us as soon as possible.
Complaint management
Our goal is to offer a service worthy of all our buyers, and we try to give our best every day to get your total satisfaction.
However, there may be cases where not everything goes well.
In that case we are sure we will be able to fix it, and we thank you for your understanding.
There is always a solution to any problem!
But your cooperation and understanding is needed. We cannot know the problem if you do not communicate it to us and assigning a negative evaluation does not solve the problem, on the contrary, tensions are created, making the situation worse.
Our always professional and available Customer Service will be happy to collect and manage your reports, which will be dealt with as soon as possible.
How can I report a complaint or a disservice?
We are always available to offer support to our customers. In the event that a problem has arisen in one of the phases of the order, our Customer Service will take care to provide adequate support for resolution.
We thank you for the time you want to dedicate to us. Your recommendations will allow us to serve you better.
Customer care: Report a problem
Live chat: real-time support for business and public administration accounts
Email: info@dhm-online.com
Phone: +39 0492701149
---
From here you have the possibility to create your private or public projects. You can enter the products that interest you most in the project list, or the products for your next purchase. Each list can have a description and for each product you can indicate the quantity you need and any notes that may be useful during the construction phase. You can add the entire project to the cart, or add a single product.
You will also be able to view a link to be able to share your list with whoever you want. You can edit the list or delete it at any time.
Find out more details in the dedicated section.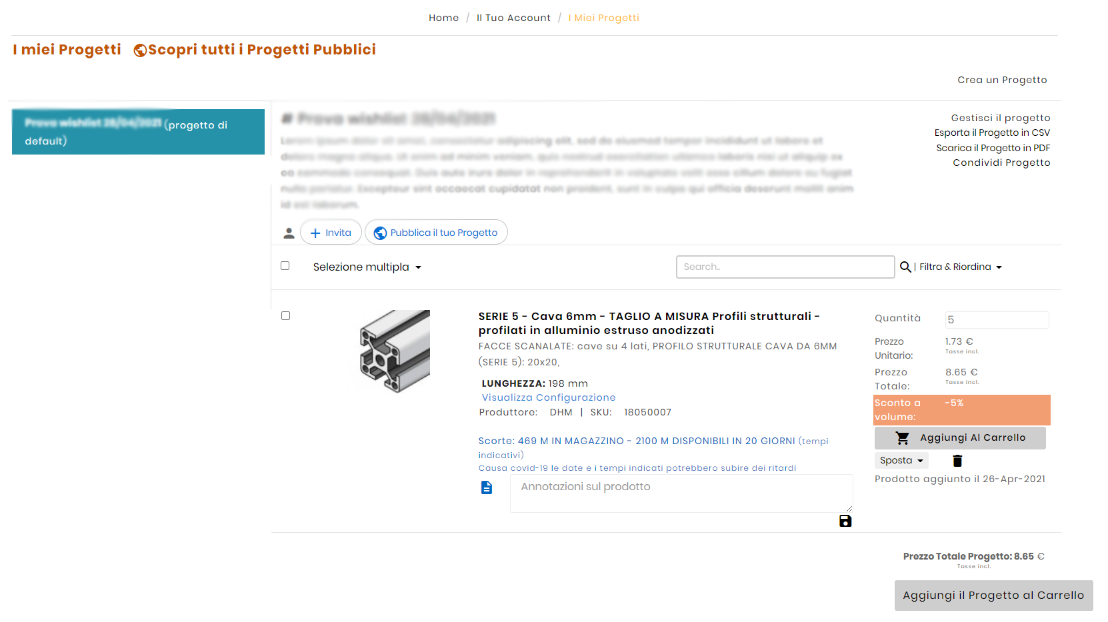 ---